For Photographers
About a year ago, I wrote a review on Pro Photo Blogs. Just recently, a new version Pro Photo 5 was released.  I'm not someone that runs out and gets the latest products, from software to phones.  I like things to be tested, reviewed, and then I'll consider it.  However, I was on Pro Photo's website the instant I heard of the new release.  I believe I bought it on day 2.
I will start by saying it rocks.  When they come out with a new version, there is a reason and they make it more than worth the upgrade fee.  Over the last few weeks I have tested all the new features, and even broken it once.  Their tech support is super awesome as always, but I stumped them with this one.  The tech told me the head programmer would be in touch.  Shortly he emailed and I gave him my all the details. He logged into my website, finding the error.  I didn't get the exact details but pretty much I was trying to do something with buttons and drop downs that revealed a bug in the code.  Just like that though, he got it fixed.
Instead of me going into each new feature, check out their list here.  What I want to talk about is what I find the biggest upgrade.  Buttons.  You can create rollover buttons that can be placed in many areas of your website.  They can be used as the menu, in the bio section, sidebar.  They just add a bit of bang visually and they are functionally. Check out the screen shot below.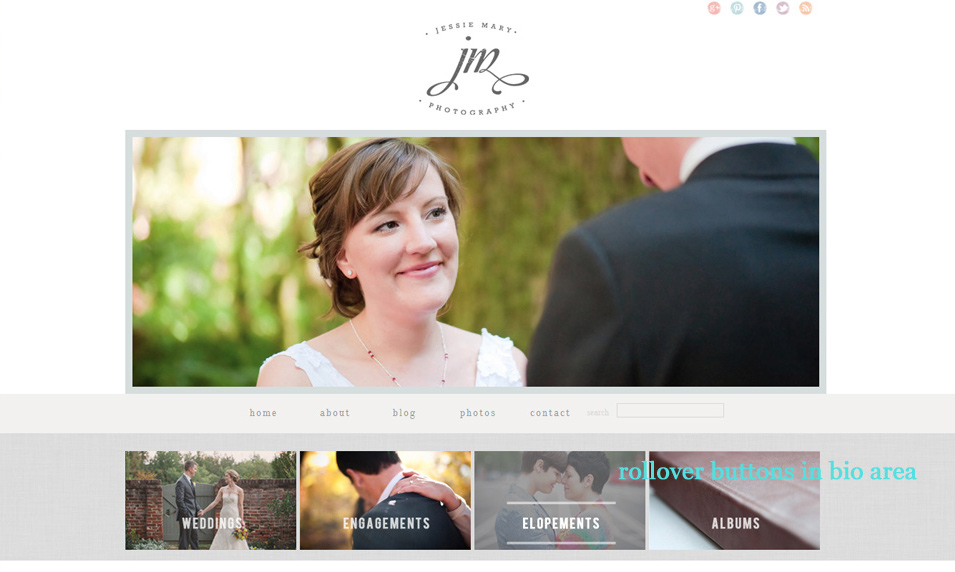 If you look at the 3rd button from the left, it is in the hover state. This happens to each button as you put your mouse over it. It's really simple to create and you can make any image you like. In the image below, you can see how I created the same effect with the menu. This is also a button with a hover state.

What I love about Pro Photo most is that as a photographer or designer can do anything they imagine with it, or at least very close to anything. There is no coding involved, just all visual… perfect for artists. There is a dorky side of me that digs coding but really as a photographer most of the time we want to focus on what we do and have our websites look incredible to help sell us. I think PP5 takes this one step further than ever before with flexibility.
Another neat part is the menu locking to the top so you can always see your menu. Again, this is an option if you choose to design this way. If you have a long blog, you can use this so clients can always know where to navigate to instead of returning to the top of the page. Below is an image so you can see what I mean.

The one thing I was disappointed in and I'm hoping, hoping, hoping that will be added in a future update is true mobile responsiveness. They've done the retina ready which is important for modern websites, and they have mobile site options, but the theme is not what I consider truly responsive for all devices. Will it work? Yes.  Will it be absolutely optimized? No. Honestly, only those as geeky as me will probably care, or even notice. It's definitely not a deal breaker, just makes me give them an A instead of an A+.
Back to the good.
Grids came out in PP4 and are greatly improved in this new version. They have added options, the ability to put them in more places, better ways to control the looks, and more.  Below you can see an example of a rollover grid used in the sidebar to highlight featured weddings.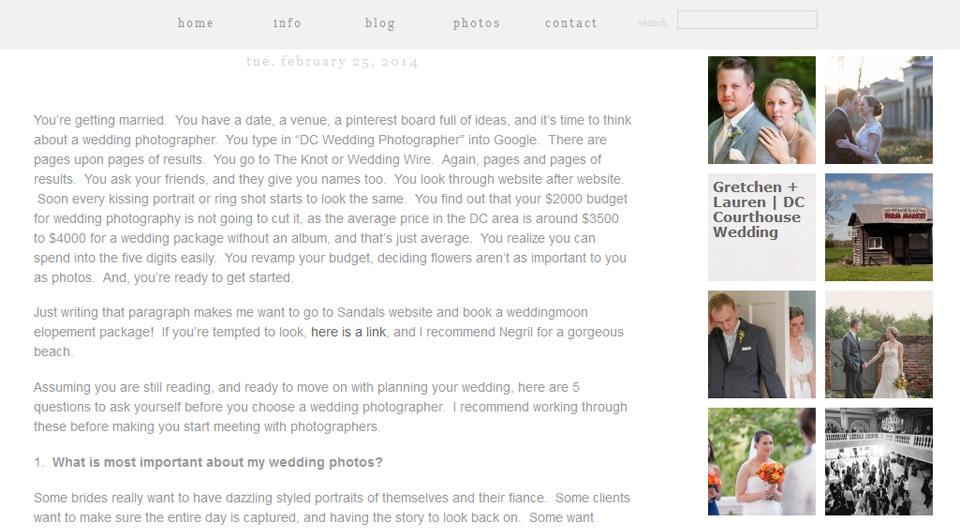 Galleries. I love Pro Photo built in galleries, and the new slide gallery takes the cake. It slides with a touch on an iPad, and looks awesome on a desktop.  It's sleek, beautiful and works just as it's supposed to.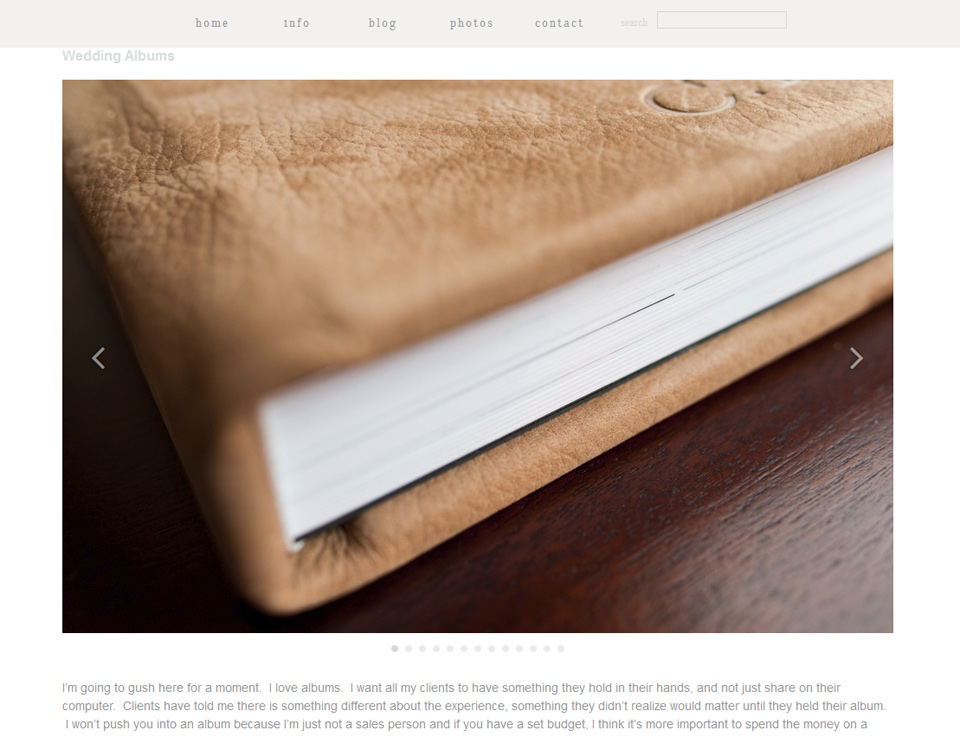 I think for 98% of photographers, Pro Photo can be all that. There is no real competition. Sure there are other options but I don't think any of the other themes or pre-designed template websites can even come close to competing. So if you are thinking of upgrading, do it. If you are thinking of buying Pro Photo for the first time, I recommend them more highly than ever.   You can use this link to receive $10 off, or promo code JSHE2061.
If you've never heard of Pro Photo Blogs, check out their video below.
If you are looking for a web host, I also strongly recommend A2 hosting, for their amazing customer service.
EDITED on 12/15/2014: I've had several people contact me to ask why I am not using Pro Photo for this website, since I review it so highly.   I promise to write another post talking about this soon, but I just wanted to update to say that I absolutely strongly still recommend Pro Photo.  Also, if you are looking for a custom designed Pro Photo website, please check out my new services. 
If you are looking for a review of the latest version, ProPhoto 6, please see my post at https://jessicashepard.com/2016/prophoto/pro-photo-6-review/