I started writing a goals post last year, inspired by a photographer friend.  I actually never looked at it again all year until a week ago, and am excited to say I did pretty well at accomplishing what I set out to do.
Before I get to the business stuff, I'm going to dedicate a minute to on a personal note. My daughter turned 5 this week, which other moms know is a pretty big number.  She's completely a little girl now.  On her birthday morning, we were pretty quickly pulled out of bed.  I sat half asleep with my coffee and my big camera, watching her open gifts. While I love her bright eyes and big smile, I always adore the the photos of her most that capture a moment.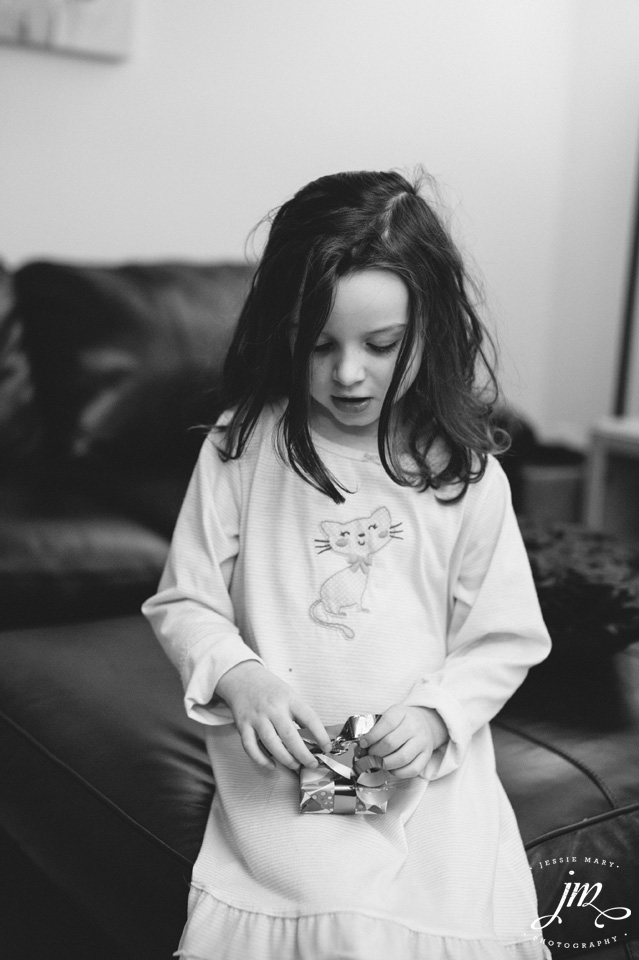 She was so excited about receiving a small box, and very delicately opening it.  I love the messy hair, the nightshirt with the sleeves rolled up, our home in the background.  So this brings me to goal number one, lifestyle portraits!
1.  Family portraits are now lifestyle sessions.  There are plenty of photographers that will take amazing photos of everyone smiling together, dressed perfect, in front of pretty trees.  There is nothing wrong with this, but it's not what I want to do when it comes to families.  Forget the coordinating outfits, don't stress about the smiles, just let me hang out with your little ones and capture the real life moments in a way that creates beautiful artistic portraits of who each of you really is, right now.  I will announce a new website dedicated to this aspect of my business by March.
2.  Keep my wedding business strong, as it is.  I love weddings, the story of the day, getting to know each couple, the pace, the slight tension before the first time the bride and groom see each other that day.  I have had incredible clients this last year, ones that really hired me because they trust me and want me to do what I do.  2013 and 2014 bookings are rolling in lately, so my goal here is just to keep doing what I'm doing.
3.  Be even more organized.  This last year was a huge "get organized" year.  I've accomplished so much in 2012 in this area and am now inspired to be even more so.  I am in the process of setting up ShootQ, an awesome client management system for photographers.  (Review to come in a separate post.)  Mostly I'm excited that my clients are going to each have their own portal to log in to once my setup is complete.  You'll be able to see all your wedding details, fill out all your questionnaires,  and even pay your invoices, all in one place.
4.  Figure out how to promote my new beauty for women business. Yes, this is very opposite of capturing moments like I talked about 3 goals back.  This is about giving women a chance to feel beautiful, and creating portraits that capture your personality while showing off your favorite features.  It's about having a glass of wine, getting pampered with professional hair and makeup, and taking some time out of the day for you.  Having a little book of gorgeous images as a gift for your hubby is a side bonus!
5.  Blog even more!  I have so much work that I haven't shared yet, and a list of topics I want to write about.  I blogged 65 times last year, which is actually way less than I hoped.  My goal is 2-3 times a week.  Along with this note, I'll say the quiet underlying goal of become number 1 on google for my search terms.  I also need to learn to use social media more to my business's advantage.  I use twitter, pinterest, and facebook for my business, but I know I can get a lot more out of it.
6.  Manage my time.  I had setup regular office hours, but I they have slipped a little.  As my business is growing, I have a lot to do, and keeping organized about my time is key.  Plus more dedicated work time means more dedicated play time with my family!  As much as I love photography and running my business, lazy Sunday mornings with my family, camping trips, and days at the beach, are really what it's all about.
7.  Fitness and Health.  In the last year, I started running again.  I had not run any distance since I my freshmen year in high school.  I've been active as an adult.  I used to rock climb and go caving, but I've always said I running wasn't for me.  I started a c25k (couch to 5k) program in April.  In July I ran my first 5k, and later that month did an amazing women's mud run.  In 2013, my goal is to start working towards clean eating, and to get in the best shape of my life.
I'm sure I can think of more goals, but I think these are the big ones and now it's time to get back to editing photos!