Is SEO dead? SEO in the way it used to work, not that long ago, is dead. We can no longer simply create a website, setup the pages for ideal SEO, hire a service to linkbuild, and end up as listing #1.
Maybe the correct statement is: SEO is reinvented.
Content creation and social media are a huge part of SEO. Without regular content creation and a content marketing strategy, you will not achieve the SEO results you are hoping for.
Is optimizing a site for ideal SEO and understanding keywords for your market still important? Certainly.
Many of the traditional factors still come into play:
Optimizing your website for speed by using correctly compressed images and a host with reliably fast servers.  You can test your site speed at https://tools.pingdom.com.  You want your site to load in less than 5 seconds… the quicker the better.
Your bounce rate matters.  Do viewers hit your one page and leave?  Google takes this into consideration.
Is your site mobile friendly?  This is key and will only get more important. Read my Mobile Friendly Websites article for more details.
Do search engines see your website as established and having credibility?  A few factors go into this and it ties to page rank.  A brand new site will have a 0 or 1 page rank.  Someone like Apple probably has a 10.  I have a 3, which is a recent step up from the 2 I had for years. This is based on who links to you, how long you've been around and much more.
Are you using your keywords in your titles / headers and within your post or page content?
These are the old school things we've all heard before.  While I'm here declaring them dead, it's not really true, it's just that these are baseline factors like putting on your underwear before you get dressed.  They are steps you need to take but are not going to complete your look.
.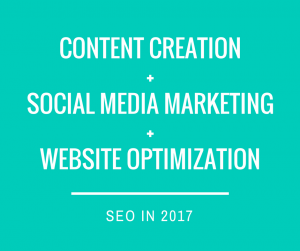 Content creation is the tunic top you pair with your leggings, and social media marketing is the bangle bracelets that get you noticed. I am the least fashion savvy person ever so please don't mind my probably already outdated choice of words. Perhaps I should have compared SEO to food…
What the search engines are truly looking for these days are two things.  Are you creating high quality long form content on a regular basis? If so, is it being shared on social media?
While social media shares still only play a part in SEO, keep in mind how often you find something via Twitter or Facebook instead of Google these days.  So the sharing part is two-fold.  One you'll make Google happy, but almost more importantly people will see it while they are attached to their phone and IG, FB, or whatever social media they love.
Often when I tell my clients that they need to be blogging more regularly, I get something similar to the "ugh" response that my 8 year old gives me when I tell her to straighten up her room.  Maybe you are a wellness provider busy coaching clients, a photographer spending all weekend shooting, or maybe you simply don't like to sit in front of the computer writing.
Solution #1: Outsource it.  Whether you choose a professional service, a Virtual Assitant or an Intern, someone else can do this for you if you don't love it.
Solution #2: Find some type of content creation you do love.
I am terrified of video.  I stumble upon words if I try or awkwardly hold a death grib on my cup of coffee. Writing is what I love, so it's my content of choice.
When you think of creating content, think of what it is you enjoy doing that is part of your business that you can share.  Can your assistant catch 30 second clips of your photographing an engagement session?  Can you talk about your newest workshop on a podcast?  Content comes in many forms these day.
Do you think SEO is dead?  How much importance do you place on your business ranking high on Google?  I'd love to hear your comments and thoughts.
Interested in working together? Send me a note.
Jessie Mary & Co. offers web design + coaching for photographers and creative small businesses.